In the late 2008/2009 model years, the Mercedes E-Class W211 no longer has a kinematics compartment, but a fixed "installation frame" (A2116801714) to which the upper control panel in the center console is attached. The control panel itself no longer has a button to open the kinematics compartment.
However, the kinematics compartment can be retrofitted. We will be happy to assist you with this!
What is needed
Dies haben wir für Sie in folgendem Angebot zusammengefasst:
You are welcome to send us a photo of your switch panel, and we will send you a quote and take care of the rest!
In detail
The fastest way to find the used kinematic unit is on eBay. Make sure that the switch panel is included and that it has the same (or more) functions as your current switch panel. If there are buttons you don't need, you can swap the keycaps later. Likewise, the wood veneer can be swapped, so the type of wood doesn't matter. Such a unit should not cost more than 25€-30€.
The kinematic unit has a 6-pin connector - here two additional poles are provided for the fan of the CD changer, which are no longer present on the 4-pin vehicle connector. The 6-pin connector must therefore be exchanged for the 4-pin connector socket A0425459228, with positions 3 and 4 swapped. The following figure illustrates the assignment: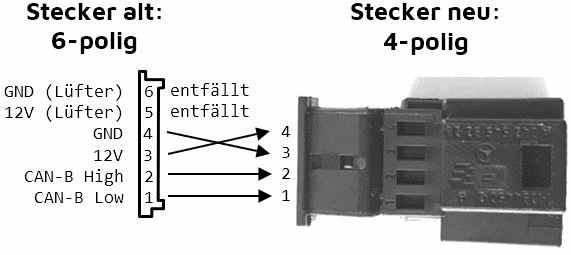 The result
Here you can see a customer video, which we are allowed to publish here with the kind permission of Sebastian Wunsch.